Restorations/Cosmetic Dentistry
Composite Fillings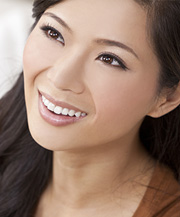 If your silver fillings make you feel self-conscious when you smile, or it's simply time to replace them, consider white fillings. White fillings are just as durable as they are attractive! Made of composite resin, white fillings match the natural color of your teeth and are an excellent option for small to mid-sized cavities. White fillings are strong, stain-resistant and require less removal of your tooth structure than amalgam fillings.
Porcelain Crowns
Although dental crowns can be made of a variety of materials, including stainless steel, gold and silver, nothing looks better than a porcelain dental crown. Porcelain dental crowns match the natural color of your teeth and are virtually undetectable by the naked eye. And because some are metal-free, porcelain dental crowns are an excellent option for patients with metal allergies. Best of all, porcelain crowns don't just look beautiful – they're long-lasting, too!
Dentures & Partial Dentures
Using dentures to replace missing teeth is not only great for your oral health; it's a great way to look and feel younger! Today, there are a variety of natural-looking and comfortable dentures for patients who need to replace missing teeth. Made of a gum-colored plastic resin or acrylic base and either resin or porcelain replacement teeth, dentures are custom designed to fit your mouth. If you have several teeth or all teeth missing on the upper or lower jaw, full dentures may be your best option. Partial dentures, which can be either fixed or removable, are great for patients who have several missing teeth scattered along the upper or lower jaw.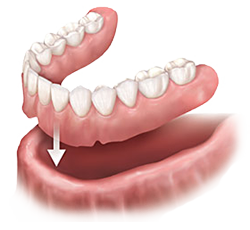 The process of getting dentures may take a few months and several dental visits. In some cases, however, same-day dentures are also possible. They are called immediate dentures. However, same day dentures are not for everyone.
Just as with your natural teeth, dentures require daily maintenance. With regular wear and tear, your dentures can last 5-7 years. During that time, you may need periodic denture relines to accommodate changes in the contours of your mouth. Regular denture relines involve resurfacing the base to ensure that your dentures fit and function perfectly. If you break your dentures, it's critical to bring them to your dentist for professional denture repair. Home denture repair kits can cause more damage and be even more costly to fix.
Fixed Bridges
Today, implants are another option instead of a bridge. Our office will advise you of the best option.
Dental bridges have been used for centuries to replace missing teeth. Dental bridges are still considered one of the most durable, conservative and cost-effective options for bridging the gap between a missing tooth and surrounding teeth. Comprised of two anchoring teeth and a replacement tooth, dental bridges help prevent surrounding teeth from drifting out of position, improve chewing and speaking, and help keep your natural face shape in tact.
Dental bridges typically take 2-3 weeks to complete and are less invasive than other options.
Implant Retained Dentures
Porcelain Veneers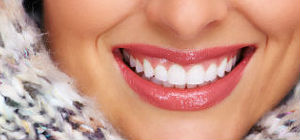 Years ago, smile makeovers involved multiple dental treatments over a period of several months. That's no longer the case, thanks to porcelain veneers. Porcelain veneers are ultra thin shells made of translucent porcelain that can be bonded to your teeth for cosmetic purposes. Extremely versatile and durable, porcelain veneers are an excellent option whether you want a total smile makeover or need to cover a chipped tooth, mask a cracked or stained tooth, or close gaps between your teeth. 
Teeth Whitening
Today's teeth whitening treatments are so easy, convenient and affordable that they've become a regular part of everyone's beauty routine. If you haven't tried one yet, you'll be happy to know that you have plenty of choices. For the fastest, most dramatic results, consider laser teeth whitening. Laser teeth whitening treatments take just an hour and can whiten teeth up to 10 shades. If you're the do-it-yourself type, an at-home teeth whitening kit might be right for you. These professional grade teeth whitening kits produce excellent results over a longer period of time. They can be purchased from your dentist or over-the-counter, but for best results, it's recommended that you always consult with a dentist before trying any over-the-counter teeth whitening system.
Dental Implants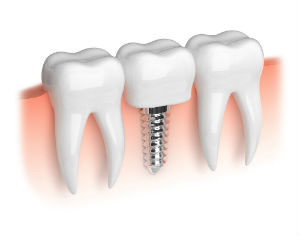 Dental implants are an extraordinary blend of science and art. Made of titanium, dental implants are securely anchored into the jaw and serve as roots for dental crowns. In many cases, dental implants – and mini dental implants, the smaller version -- are considered the best option for replacing missing teeth. They are also used to replace dental bridges or partial dentures, or to provide support for dentures. Dental implants offer several advantages over other tooth replacement options. They look, feel and function just like real teeth! With dental implants, surrounding teeth are left untouched. Finally, dental implants are exceptionally reliable. Year after year, dental implants have had high success rates and typically last 15-20 years.